Support Rams Volleyball
With Coach Zack Hall at the helm, the girl's volleyball team feels ready to have a fantastic season.
Granby Jr Sr High School's girls volleyball team has been in existence for four years. The team is in a building phase as this year, many of the new seventh graders have joined the varsity team and some old players are stepping up to be leaders. Despite their four year run, many of the team believes their sport isn't discussed enough and that the Rams could use more school support at games.
"Being a captain feels pretty great," says Lauren Parker, '23. Lauren's favorite defense or like position on the team is back middle. While she really enjoys the game, she believes the team needs some encouragement when it comes to working together and team bonding. Lauren is also pushing for new jerseys as she calls the old jerseys "terrible."
Paige Gulusha '22 is a fourth year volleyball and another captain this year.  
"It feels really great to be a captain," said Gulusha. "To be able to help out the younger girls but there are certainly a lot of possibilities." Gulusha would like to continue her volleyball career after high school but cites the lack of coaches in the area as a potential hurdle. 
Gulusha thinks what needs more improvement on the team is more support from the school, especially not having a junior varsity team and no second coach. She would like to see newer equipment over new jerseys. 
One of the newer faces on the team is Layla Bergeron '27. 
Was it scary to walk onto the team as a newbie? "It was at first,  since there are a lot of older girls on the team," Bergeron said. "But then I became friends with some of them so now I feel better." 
Audrey Pleisch, '27 another girl that is new to the team, finds the team "fair and supportive." Pleisch says when she joined it was scary and a little intimidating, but now she feels very welcome and has become an outgoing and social member of the team.
Coach Zack Hall, the four year coach of the team, has been with the team since it started. Prior to this, Coach Hall had never played volleyball but wanted to learn a new sport along with the girls on his team. The team considers him an incredible help when it comes to both teaching new players and helping the team improve overall. 
Coach Hall recalls his first game where "everyone was standing in the same spot and not moving," but by the third game he saw much improvement thanks to increased movement on the court and a stronger team bond. His goal for the year are to win against Southwick, Smith Voc, and Commerce because that would show the team has come a long way and now can beat anyone.
 The season this year has been very stressful. Coach Hall thinks about it every day, every night and every morning.
"How can we do better? What can we do better? How can I be a better coach? How Rebecca's serves go over the net," said Coach Hall. "I think about that every day and it's stressful. But it is going very well and I think everyone is working very hard. It's paying off because everyone is working hard and working as a team."  
Currently, Hall's coal is trying to get the seventh graders to be more confident with the ball and feel more open with the team.  
With Coach Hall at the helm and the bond between players growing stronger than ever, the team is primed to have a great season and would appreciate some fan support at their games.
About the Contributors
Madison Bombard, Staff Photographer
Madison Bombard is a senior at Granby Jr/Sr High School. This is Madison's third year on The Daily Dino staff and she enjoys it a lot! She is happy and...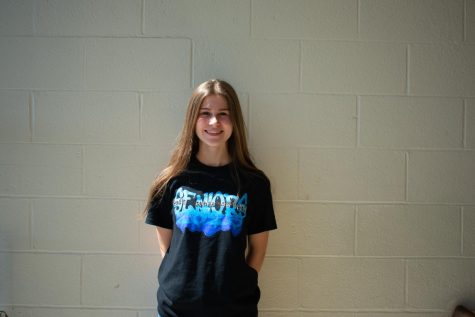 Rebecca Gavel, Editor-in-Chief
Rebecca Gavel is a senior at Granby High school. She is planning to go to college to be a physician assistant and hopefully play volleyball. She has been...