December Extravaganza Brings Spirit to Granby High
Dressing up, door contests, and pep rallies – December at GJSH is always a lot of fun.
Here at Granby Junior Senior High School, the faculty hosted a December Extravaganza in the weeks before break. The idea was that random fun events were planned throughout the month of December in celebration of the holidays.
December 1-16 was a door decorating contest. A Block classes came up with an idea for a themed door and used decorations, paper, and other art materials to decorate the door. Mrs. Stapert's A Block class was declared the victor of the door decorating contest and were treated to a breakfast party on Wednesday, January 11, 2023.
December 2 was a school-wide study hall during E Block. This gave students a chance to finalize any assignments before progress reports, or do work for other classes.
December 7 was a half day. During this day, students participated in a school-wide bingo game during G Block. Teachers had one card for the whole class, and numbers were called over the intercom, and the winning class for each round got chocolate and other assorted candies for the class to share.
On December 9 students got to sing karaoke during lunch with Mrs. Roy and Mrs. Pinkney. Students and teachers alike sang a variety of songs during lunch, allowing for a fun experience for everyone.
December 10 and 11 was a no homework weekend. Teachers were strongly encouraged not to give students homework
December 19 was a "snow day." Students and staff wore white as a representation of winter and snow.
December 20 was a style swap day, meaning that teachers would dress like students and vice versa. Students in grades seven through nine also got hot chocolate as a special treat during lunch.
December 21 was pajama day. Students could attend classes snug in their comfy holiday pajamas, and students in grades ten through twelve got hot chocolate for a treat during lunch.
December 22 was a holiday accessory day! Students and staff alike wore holiday themed accessories to school to make sure that the spirit of Christmas was buzzing in the air.
Last but certainly not least was December 23 – ugly sweater day. Students and faculty were encouraged to wear their ugly Christmas sweaters to rally each other into the holiday spirit. Students all participated in a school wide game of name that tune, holiday bingo, and an exciting pep rally.
All in all, December Extravaganza was a fun string of events for all students and staff. We are all looking forward to another celebration next year!
About the Contributor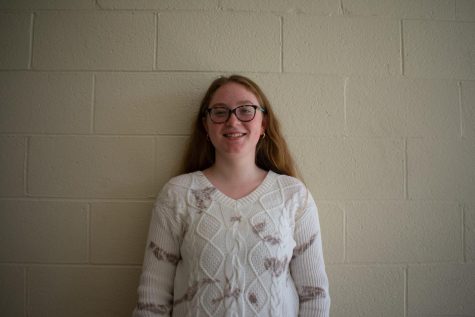 Alexis Laptie, Managing Editor
Alexis Lapite is a sophomore at the Granby Jr./Sr. High School, and it's her second year on The Daily Dino staff. She is particularly interested in Science,...