Meet East Meadow's New Principal
Lisa Desjarlais, the new principal of East Meadow Scool, wants to students and families to know she is someone they can trust.
Last spring, Mr. William Lataille informed the Granby community that he would be stepping down from his position as principal of East Meadow School. After a search for someone to lead the elementary school, the hiring committee eventually selected Lisa Desjarlais, a longtime educator with roots in the area, in May 2022.
Desjarlais has been in education for thirty years. She began as a substitute teacher working for different school districts before spending sixteen years in the South Hadley system as a fourth grade teacher. When she decided she would continue in education but wanted more responsibility, she went back to school to become certified as a school administrator. In this new role, she served as an assistant principal in Amherst and then worked as a principal at both Pelham and Gill-Montague Regional – a role that she approaches with kindness and compassion.
"I'm very committed to doing the work and that I truly love kids, and I want kids to see me as not a mean principal but as a nice principal," says Desjarlais. "Someone they can approach and talk to, so that I can have a relationship with them."
Eventually, in a desire to be closer to her native South Hadley, she decided to apply for the opening in Granby. Desjarlais is very familiar with Granby – she knew many of the staff members before she was even hired and was already a fan of how the district was approaching reading disabilities in students.
"Even though it is her first six months, she started learning about East Meadow, the people, and the teachers," says Granby Superintendent Steve Sullivan. "It's tough to transition in but so far so good. I think she's doing a good job and seems like she's been welcomed by the staff and the community."
Desjarlais' goal is to foster those connections and work closely with teachers to make decisions on interventions the school can develop for students who are in need of remediation to get them to grade level.
"One of the areas I'm working on is getting better at [is] working with student data," says Desjarlais.
"We are just trying to bring in the fun and energy into the school, for a lot of school feels like a reset with a couple hard years from COVID, now we are back and moving on forward," she says.
Moving forward, Ms. Desjarlais hopes to maintain a great relationship with the staff as well as students and hopes that students know that they can turn to her for support during hard times.
About the Contributor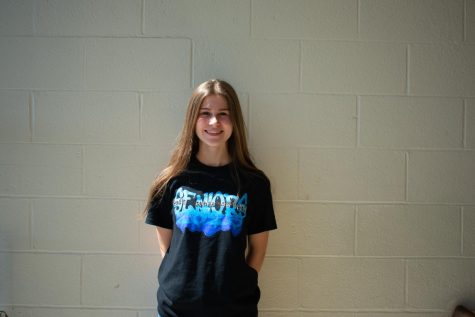 Rebecca Gavel, Editor-in-Chief
Rebecca Gavel is a senior at Granby High school. She is planning to go to college to be a physician assistant and hopefully play volleyball. She has been...