A Successful Arts Night In
On Wednesday, May 25th, Granby Jr. Sr. High School had their annual Arts Night. This Arts Night, the school's band also performed for their annual Spring Concert. Art Teacher Mrs. Stapert said that "It went fantastic and a lot of people showed up." This Arts Night did in fact have a big turnout and did go very well.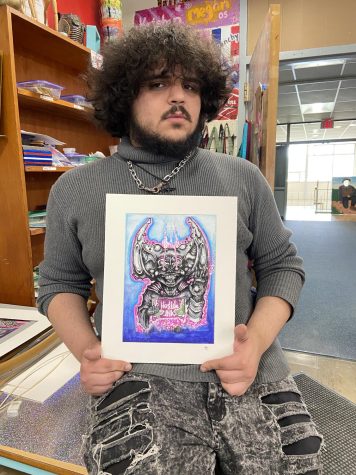 GJSHS Senior Isaiah Mejias
This year, art was displayed from grades 7-12. Usually it is only grades 9-12, but because middle school teacher Ms. Bys taught an art class for the seventh and eight graders this year, their projects were also displayed, alongside Mrs. Stapert's high school students. 
Mrs. Stapert, who spent all day organizing the event, displayed her ceramic students' pottery pieces and her art classes' many different kinds of projects. Some of the pieces that were displayed consisted of two point perspective drawings, focus illustrations, transformative paintings, relief tiles and mini paintings. Ms. Bys students' displayed self portraits and papier-mâché masks.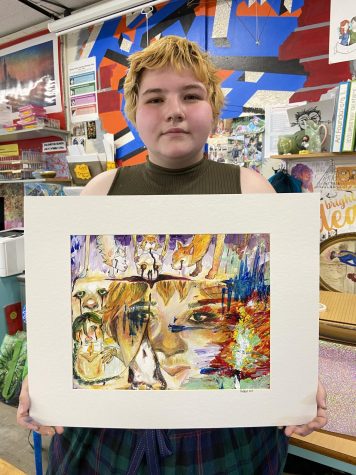 GJSHS Senior Cal Green
For the band's performance, Mr. Thai explained to the audience that the theme was "movie music." The band played the theme from The Incredibles and The Flintstones. They also played "Carry on Wayward Son" by Kansas and hit songs from the movie Guardians of the Galaxy. Mr. Thai described the event as "Not as planned, but better than as expected." Alongside the band's performance, students also had the opportunity to do open mic in the cafeteria and the performances were great. This Arts Night was a successful turnout and let's hope future Art Nights are the same way or even better.