A Nonprofit Giving Power To The Youth
Student leaders at Granby Jr/Sr High School step up as a part of "Project 351."
Oftentimes, society views young people as less impactful than our older counterparts. Younger generations are regularly looked down upon because of how we go about our lives, despite living in a world much different than the so-called "good ol' days." However, young people can make a difference, and no one knows that better than Project 351.
Project 351 is a Boston-based nonprofit organization, aiming to unite communities using four values: kindness, compassion, humility, and gratitude. This organization puts power completely into the hands of the youth. Named for the 351 cities and towns in Massachusetts, this nonprofit has 4,123 eighth grade ambassadors and has touched over one million lives. These ambassadors are selected by their very own hometown educators, for their good values and work ethic.
Since 2011, when this nonprofit was founded by Carolyn Casey, Project 351 has been changing lives.
This organization was recommended to Faith Ramos, an eighth grader at our very own Granby Jr./Sr. High School, for this very reason. "Ms. Bannister and I have talked a lot, and she's noticed that I'm a good person and an 'unsung hero'," said Faith. "She introduced me to the organization by giving me a packet and having my parents sign to make sure they were okay with me joining." Ambassadors are chosen for their love for their community. "I was inspired to join Project 351 because I've always loved to help people, and I was also told it would look good on my college resume."
Currently, Faith is hosting a clothing drive called Cradles to Crayons. "We're collecting as many clothes as we can from April 4th to the 8th so we can give back to those in need. We're collecting sizes from infant to adult. We recommend donating packaged socks, underwear, t-shirts, etcetera."
Project 351 has given the ambassadors a chance to help in multiple ways. "They've given us the chance to host clothing drives, and told us how to get the word out with posters and donation bins. We are often put in groups to sort through clothes."
Next year, Granby senior Ariana Klektoka will be passing the torch along to Faith. Ari has been working with Project 351 for five years and has become their Regional Leader of Western Massachusetts. "I am beyond excited to have someone carry the legacy of Project 351, especially with this being my senior year," said Ari. "I feel as if Project 351 has had a large impact on my life, and want others to feel the same."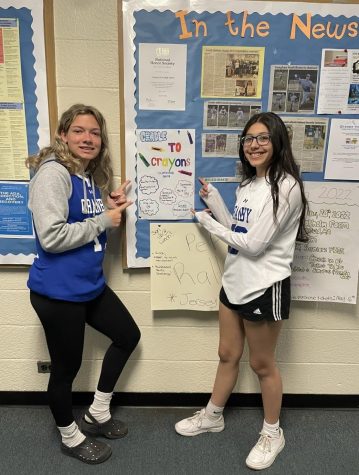 Over the course of her many years working with this organization, Ari has done many exceptional things to influence her community, such as hosting clothing drives, can drives, hygiene drives, and a 9/11 tribute service. She has also done volunteer work at a New England Patriots game, and has collaborated with the Boston Celtics to discuss diversity and inclusivity.
In the words of Ari, Project 351 offers endless opportunities to serve. She was inspired to join after doing a quick Google search of the organization. "I was empowered by all of the strong leaders that I saw come from Project 351, and wanted to be just like them and make a difference in my community," said Ari. "I hadn't heard anything about Project 351 prior to being elected. I was chosen based on my large involvement in extracurricular leadership positions at Granby."
This is a common theme when selecting Project 351 ambassadors. "Those who demonstrate a large amount of leadership in 7th grade are most likely to be selected to represent Granby in Project 351," Ari commented. "However, being a volunteer and community service organization, Project 351 is always looking for help, whether it be setting up a leadership summit, or helping out in a local Project. There are endless ways to get involved."
Both Faith and Ari agreed that Project 351 makes them feel heard and appreciated. "Project 351 always starts their meetings with joy calls, in which you share the good in your life at the time, and relieve stress before diving into business," Ari said. "Additionally, Project 351 is always looking to join and support new organizations, leaving everyone's voice to be heard."
You can read more about Project 351 at their website, https://project351.org.
About the Contributor
Ava McFarland
Ava McFarland is a freshman at Granby Jr./Sr. High School. This is her first year on the Daily Dino and she's excited to get started. In her free time,...